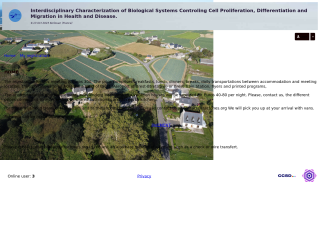 Interdisciplinary Characterization of Biological Systems that Control Cell Proliferation, Differentiation, Migration and Apoptosis in Health and Disease.
9-13 oct. 2023
Salle de la Mairie de Kerlouan Rue Saint-Brevalaire 29890 Kerlouan France - Kerlouan (Francia)
The registration for this meeting is Euros 300. The price comprises breakfasts, lunch, dinners, breaks, daily transportations between accommodation and meeting location, transportations to an from the airport of Brest (Aéroport of Brest-Btretagne) or Brest Train Station, flyers and printed programs,
The accommodation is in supplement. Independent bedrooms into vacation houses will be provided for Euros 40-80 per night. Please, contact us, the different prices correspond to independent or shared bathrooms, and access to kitchen.
For those who need transportation from and to the airport/train station, please contact us at contact@fractones.org We will pick you up at your arrival with vans.
Payment can be made online with credit card.
PAIEMENT
Please contact us at contact@fractones.org to request an alternate method of payment such as a check or wire transfert.
Disciplina científica : Bioinformatics - Multiagent Systems - Modeling and Simulation - Neural and Evolutionary Computing - Analysis of PDEs - Category Theory - Dynamical Systems
---
Lugar de la conferencia