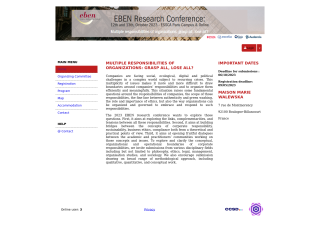 Multiple responsibilities of organizations: grasp all, lose all?
12-13 oct. 2023
ESSCA - Paris (Francia)
Companies are facing social, ecological, digital and political challenges in a complex world subject to recurring crises. This multiplicity of issues makes it more and more difficult to draw boundaries around companies' responsibilities and to organize them efficiently and meaningfully. This situation raises some fundamental questions around the responsibilities of companies, the scope of those responsibilities, the fine line between authenticity and green washing, the role and importance of ethics, but also the way organisations can be organized and governed to embrace and respond to such responsibilities. The 2023 EBEN research conference wants to explore those questions. First, it aims at exploring the links, complementarities, and tensions between all these responsibilities. Second, it aims at building bridges between the concepts of corporate responsibility, sustainability, business ethics, compliance both from a theoretical and practical points of view. Third, it aims at opening fruitful dialogues between the academic and practitioners' communities working on those concepts and issues. To explore and clarify the conceptual, organizational and operational boundaries of corporate responsibilities, we invite submissions from various disciplinary fields including but not limited to philosophy, ethics, legal, management, organisation studies, and sociology. We also encourage submission drawing on broad range of methodological approach, including qualitative, quantitative, and conceptual work.
Disciplina científica : Ethics - Law - Philosophy - Sociology
---
Lugar de la conferencia