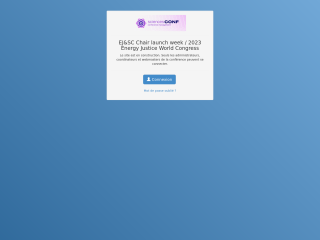 World Energy Justice Congress 2023
19-23 juin 2023
The first two days of the launch week will be held in Pau, while the last three days will take place in Anglet, in the south west of France, Nouvelle Aquitaine Region. - Pau et Anglet (64) (France)
For many years, the energy sector has been missing a raison d'être and now finally there is the clear call for that to be justice.
The focus of this conference will be on improving just outcomes at local, national and international levels.
The conference is part of the establishment of a new energy justice research team at the Université de Pau et des Pays de l'Adour, within the UMR TREE (UPPA / CNRS), in France. Funded by the Nouvelle Aquitaine Region, the Energy Justice & the Social Contract Chair is based on the creation of an international centre of excellence for research on energy justice with the aim of designing a new social contract and implementing the transformations required for by the low-carbon transition.
In its simplest form, energy justice is about the application of human rights throughout the energy lifecycle, i.e. from extraction to production, from exploitation and supply to consumption and waste management (including decommissioning).
Discipline scientifique : Droit
---
Lieu de la conférence