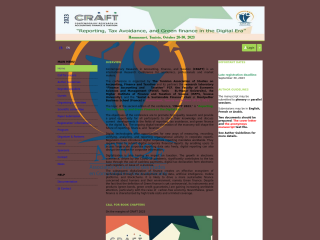 Contemporary Research in Accounting, Finance, and Taxation (CRAFT).
28-30 oct. 2023
Hammamet Tunisia - Hammamet (Tunisie)
Contemporary Research in Accounting, Finance, and Taxation (CRAFT) is an international Research Conference for academics, professionals and market makers. The conference is organized by The Tunisian Association of Studies on Accounting, Finance and Taxation and its partners the research unit "Finance Accounting and Taxation" FCF, the Faculty of Economic Sciences and Management (FSEGT, Tunis EL-Manar University), the Higher Institute of Finance and Taxation of Sousse (ISFFS, Sousse University), and the "Social & Sustainable Finance" chair at Montpellier Business School (France) in Hammamet, Tunisia on October 29 and 30 , 2023. The topic of the second edition of the conference, "CRAFT 2023," is "Reporting, Tax Avoidance, and Green Finance in the Digital Era." The objectives of the conference are to promote high-quality research and provide a great opportunity for all participants to share their knowledge and discuss current developments in the fields of reporting, tax avoidance, and green finance in the digital Era. The ongoing digital transformation of the economy will shape the future of reporting, finance, and Taxation. Digital technologies offer opportunities for new ways of measuring, recording, verifying, analyzing, and reporting organizational activity in corporate reports. Regulators have introduced digital corporate reporting mandates worldwide. They require firms to submit digital corporate financial reports. By enabling users to access large-scale corporate reporting data sets freely, digital reporting can also disrupt the market for corporate information. Digitalization is also having an impact on taxation. The growth in electronic commerce, driven by the COVID-19 pandemic, significantly contributes to the tax base through the use of cashless payments, digital tax declaration form electronic cash registers, or issue of e-invoices. The subsequent digitalization of finance creates an effective ecosystem of technologies through the development of big data, artificial intelligence, mobile platforms, and blockchains. It is likely to drive a more sustainable finance concerned about humans and their environment, namely Green finance. Despite the fact that the definition of Green finance is yet controversial, its instruments and products (green bonds, green credit guarantees,) are gaining increasing worldwide attention, particularly with the raise of carbon-free economy. Nevertheless, green finance is characterized by high trade costs and a limited coverage.
Discipline scientifique : Economies et finances - Gestion et management
---
Lieu de la conférence