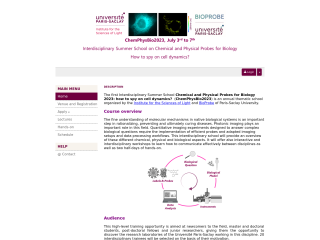 Interdisciplinary Summer School Chemical and Physical Probes for Biology 2023: how to spy on cell dynamics?
3-7 juil. 2023
- Palaiseau (France)
Quantitative biophotonic imaging experiments designed to answer complex biological questions require the implementation of efficient probes and adapted imaging setups, and data processing workflows. This interdisciplinary school will provide an overview of diverse chemical, physical and biological aspects of such bioprobes. It will also offer workshops to learn how to communicate effectively between disciplines and two half-days of hands-on.
Discipline scientifique : Biophysique - Biochimie, Biologie Moléculaire
---
Lieu de la conférence