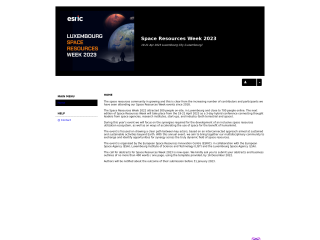 Luxembourg Space Resources Week 2023
19-21 avr. 2023
LuxExpo the Box - Luxembourg City (Luxembourg)
The space resources community in growing and this is clear from the increasing number of contributors and participants we have seen attending our Space Resources Week events since 2018.

The Space Resources Week 2022 attracted 300 people on-site, in Luxembourg and close to 700 people online. The next edition of Space Resources Week will take place from the 19-21 April 2023 as a 3-day hybrid conference connecting thought leaders from space agencies, research institutes, start-ups, and industry (both terrestrial and space).

During this year's event we will focus on the synergies required for the development of an inclusive space resources utilization ecosystem, as well as on ways of accelerating the use of space for the benefit of humankind.

The event is focused on drawing a clear path between key actors, based on an interconnected approach aimed at sustained and sustainable activities beyond Earth. With this annual event, we aim to bring together our multidisciplinary community to exchange and identify opportunities for synergy across the truly dynamic field of space resources.

The event is organised by the European Space Resources Innovation Centre (ESRIC), in collaboration with the European Space Agency (ESA), Luxembourg Institute of Science and Technology (LIST) and the Luxembourg Space Agency (LSA).

The call for abstracts for Space Resources Week 2023 is now open. We kindly ask you to submit your abstracts and business outlines of no more than 400 words / one page, using the template provided, by 16 December 2022.

Authors will be notified about the outcome of their submission before 31 January 2023.
Discipline scientifique : Sciences de l'environnement - Planète et Univers - Sciences de l'ingénieur
---
Lieu de la conférence