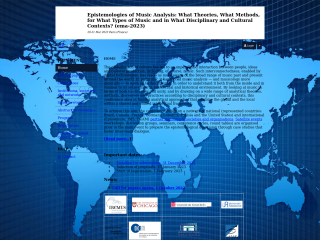 Epistemologies of musical analysis: What Theories, what Methods, for what Types of Music and in what Disciplinary and Cultural Contexts?
29-31 mars 2023
Bibliothèque nationale de France – University of Chicago Center in Paris - Paris (France)
The globalisation of culture has led to an unparalleled interaction between people, ideas and cultural production, including, of course, music. Such interconnectedness, enabled by digital technologies, has made us more aware of the broad range of music's past and present around the world. In particular, it has forced musical analysis — and musicology more generally — to open up to this diversity in order to understand it both from the inside and in relation to its socio-cultural, intellectual and historical environment. By looking at music in terms of both their diversity and unity, and by drawing on a wide range of analytical theories, methods, discourses and practices according to disciplinary and cultural contexts, this conference aims at finding analytical approaches that combine the global and the local within a shared and unified intellectual framework.
Discipline scientifique : Sciences de l'Homme et Société - Musique, musicologie et arts de la scène
---
Lieu de la conférence