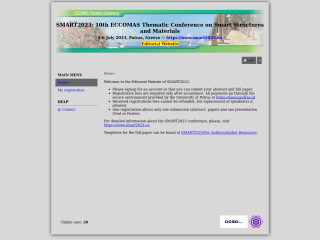 10th ECCOMAS Thematic Conference on Smart Structures and Materials
2-5 juil. 2023
Cunference and Cultural Center, University of Patras - Patras (Grèce)
Welcome to the Editorial Website of SMART2023.
Please signup for an account so that you can submit your abstract and full paper.
As of June 30, 2023, payments can be accommodated only onsite.
Received registrations fees cannot be refunded, but replacement of speaker(s) is allowed.
One registration allows only one submission (abstract, paper) and one presentation (Oral or Poster).
For detailed information about the SMART2023 conference, please, visit https://www.smart2023.eu
Templates for the full paper can be found at SMART2023/For Authors/Author Resources.
Discipline scientifique : Intelligence artificielle - Matériaux - Mécanique - Biomécanique - Génie mécanique - Mécanique des matériaux - Matériaux et structures en mécanique
---
Lieu de la conférence